Fight poverty and exploitation

Each day thousands of brick kiln workers in rural India are exploited at work.
They face back breaking labour in dangerous, dirty conditions. Often whole families, even children, work in kilns to make ends meet because wages are so low.
But it doesn't have to be this way. Find Your Feet is working with families who depend on brick kilns in Uttar Pradesh and we have recently come to the end of a successful four year project supported by UK Aid.
The results of this project are staggering. For an industry where workers' rights have only just been recognised by law, we've managed to help 9,782 people understand and claim their rights to better pay and conditions, as well as the government services their families are entitled to, such as healthcare and education for children. Furthermore, 90% of the people we work with now understand their labour rights, and the average family income has risen by 67% over the last five years. Sherona Parkinson, Programme Manager.
With Find Your Feet's support, brick kiln workers in Uttar Pradesh have now legally registered a trade union. This is an important step as it is responsible for taking the concerns and struggles identified by workers to the highest levels of governance. Today it represents more than 6,700 people and is the first one of its kind in the state.
There is now a solid foundation in place and huge amounts of will among brick kiln workers to improve the lot of their families together, but our work with these marginalised communities hasn't come to an end.
The union is still in its infancy and its members have told they do not have enough experience and training to advocate for their rights at the state level without support. Workers still fear the powerful and influential kiln owners because they face intimidation, threats and even murder for standing up for their rights.
Find Your Feet is accountable to these families and we won't leave them behind at this crucial time, but we need our supporters to help us build their skills and confidence now so they can negotiate for what is rightfully theirs.
That's why we've set up a new JustGiving Campaign for brick kiln workers.
A donation of £100 could train five people as leaders so they can manage the union and teach others in their community about the labour, civil and human rights which they are entitled to.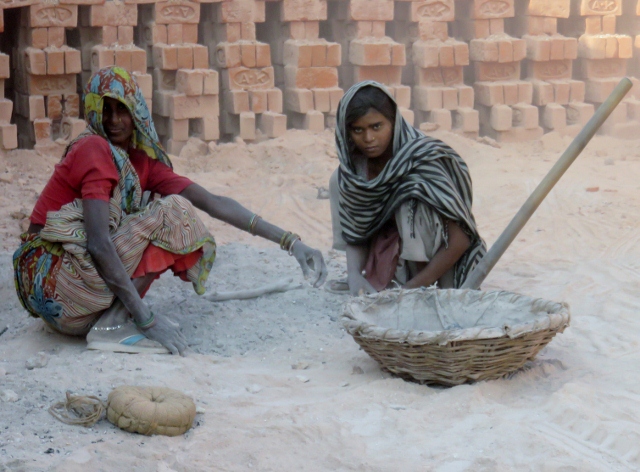 I was privileged to meet Mr. Dakhini Prasad in Uttar Pradesh last year and he was proudly holding the new union flag (pictured). Dakhini had been trained as a leader and he'd already helped 51 other workers to get written agreements with the brick kiln owner that set out legally their pay and conditions of employment. In the absence of these documents, employers renege on promises of pay and hire and fire on a whim, leaving entire families without money for food, shelter and the basics of life. That's 51 families who now have security and hope because of Dakhini's efforts – as he says "I want to help my neighbours". What impressed me is that Dakhini is not just standing up for himself, or even his fellow brick kiln workers - he is standing up for his whole community and bringing about real change in the lives of his neighbours. This is what training, skills and support brings to union members. Lynn Stevens, Head of Fundraising and Communications
So let's help him and others too. This is what just one passionate union member has achieved in his community so far - imagine what else we can do with your support.
Remember that a donation of £100 can train five people as inspirational leaders, capable of building a future free from poverty for many more.
Share: